All the supplies you need to Make a Lasting Impression
"Aqaba" Rubbing Paper
"Aqaba" Rubbing Paper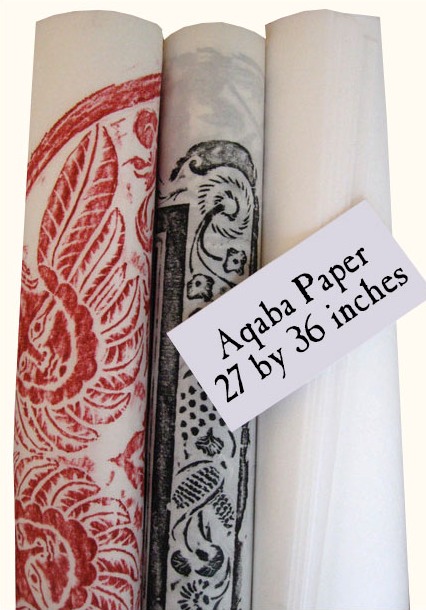 "Aqaba" Brand Rubbing Paper: White "Aqaba" rubbing paper measuring 27 by 36 inches is a high strength, multi-purpose, Archival quality paper. Its uniform surface is Superior for Gravestone Rubbing, Block prints, Origami and other Art projects. It's malleable and does not easily tear when wrapped around a gravestone.
MADE IN THE USA!
That's right! Our brand NEW Old Stone Rubbing Kit's contents are all manufactured here in the USA.
WE LISTENED TO OUR CUSTOMERS.
In response to our customers requests for wider rubbing paper, we've added three inches to the width of our internationally known "Aqaba" brand rubbing paper. It now measures 27 inches by 36 inches to give you more rubbing surface.
We have made the tube wider for easier access to its contents. The half inch wider width also gives you more space for storing your rubbings.
Each Old Stone Rubbing Kit contains:
5 sheets of "Aqaba" rubbing paper measuring 27 by 36 inches.
Two cupcake shaped high-quality, deeply pigmented rubbing waxes in the colors most demanded by our customers; one black wax and one rust wax.
Special masking tape
One soft natural bristle brush for cleaning debris from the stones and markers.
A colorful 16-page gravestone rubbing guide, well illustrated with our favorite rubbings and photographs, including suggestions for creating you own beautiful craft projects.
The NEWLY updated Old Stone Rubbing kit retails for $34.95, plus shipping. (Canadian Buyers $39.95 plus shipping)
Gravestone Rubbing Guides
Additional copies of the Gravestone Rubbing Guide can be purchased at $5.00 each.