All the supplies you need to Make a Lasting Impression
Our Books/Publications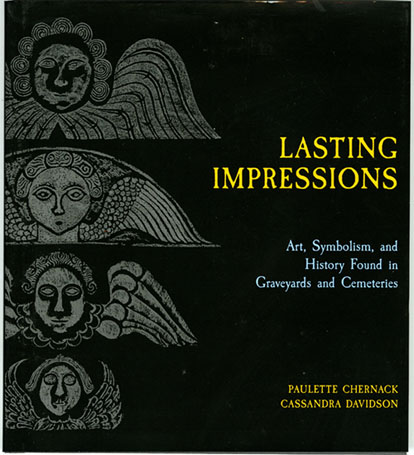 LASTING IMPRESSIONS
~ Free Shipping in Domestic USA~
Lasting Impressions: Art, Symbolism, and History Found in Graveyards and Cemeteries
Warning: Once you have this book in your possession, drive carefully along country roads and suburban highways because you'll want to brake for old graveyards.
From their own extensive collection of hundreds of gravestone rubbings and photographs, the author and the illustrator, a mother/daughter team, have carefully compiled an exceptionally beautiful book of over 300 images concentrating on the art, symbolism, and history found in graveyards and cemeteries.
An extensive index illustrating the symbolism carved on gravestones, information about how to properly rub a gravestone, important conservation and preservation notes, and a comprehensive study guide for educators makes Lasting Impressions an important resource book for anyone interested in learning more about American gravestone carving of the 17th-19th centuries.
Each book section decodes the iconology found on New England gravestones, and other locations, including New Orleans cemeteries with its so-called "Cities of the Dead".
$29.95 USD
The New Old Stone Guide to Gravestone Rubbing
A colorful 16-page gravestone rubbing guide, well illustrated with our favorite rubbings and photographs, including suggestions for creating your own beautiful craft projects.
I just want you to know how great I think your products are! I am now using them almost once a week for an 8-12 educational program. The teachers and students are in love with the program and activities especially the gravestone rubbings. It has allowed the students to connect to the past and poetry as the program is centered around the poem by Archibald MacLeish, "The Young Dead Soldiers". Thank you for keeping this ancient tradition alive and being the only supplier I will work with! Plus, the customer service you provide is the best.
May Maja (Teacher)
Presidio National Park,
San Francisco
$5.00 USD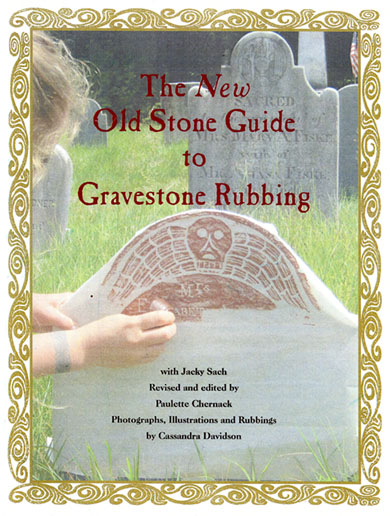 A Collection of Ten 18th & 19th Century Historic Fatalities & Tragic Events Post Cards
Each 5 by 7 inch post card is from a New England gravestone carving and records a tragic event or unusual fatality during the 18th and 19th centuries. Pardon us for being macabre, but the historical significance and unusual demises including drowning, falls, and even a murder deserve special attention.
Each post card is from a gravestone rubbing. The reproduced rubbings are printed in silver ink on quality black card stock paper. Reverse the post card to the white side and you can easily write your message.
10 post cards and 10 white envelopes are enclosed in an illustrated art folder describing more tragic events. You will hate to part with these. They are also suitable for framing. $20.00 per package.
$20 USD